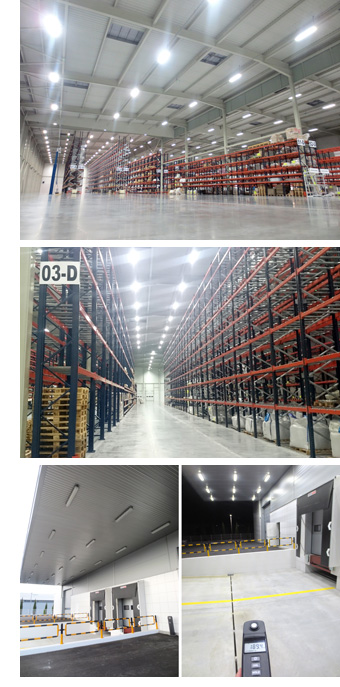 The new logistics platform in Toulouse (France) has an area of 6.800 m2, with an interior clearance of 14 metres. In order to optimize the energy consumption in lighting about a 40% over the initially projected, the customer relied on Liderlighting to develop a project based on an efficient lighting solution integrated into the Liderlighting Control System (LCS) with presence detection and daylight harvesting.
The warehouse is divided into 2 areas. An open-plan area for picking and expedition activities, and other area for storage with narrow aisle layout.
To illuminate the picking and expedition area, Liderlighting supplied the L2-T5FIX54 model equipped with HFRII dimmable electronic ballast from Philips, with 4 pieces of Philips T5 HO fluorescent of 80W each one, and with Alanod Miro4 polished aluminium reflector. The luminaries are connected to the LCS lighting control system with control software and daylight sensors. In this way, the light fittings will adapt automatically the light intensity and operating power to indoor lighting conditions.
To illuminate efficiently the storage area consisting in 6 special narrow aisles of 60 metres long and 14 metres high for pallet racking with trilateral, Liderlighting has equipped the aisles with the dimmable luminaire L2-T5FIX54 equipped with Philips HFRII ballasts, 2 pieces of Philips T5 HO fluorescent 80W and Alanod Miro4 polished aluminium reflector. The luminaries of each aisle are connected independently to the LCS lighting control system, equipped with presence detection sensors of high sensitivity specially designed for storage aisles.
The starting layout was 3 double width aisles instead of the 6 narrow aisles initially designed, with the possibility of increasing gradually the aisle number in the future as needed. For this, the LCS system helped limiting the maximum power of the luminaries, in this case 80%, in order to adjust to the required illumination value, and therefore as an energy saving measure.
Liderlighting has also provided the exterior lighting for the canopy that covers the loading docks. In this case it was chosen a solution based on LED technology, L2-T8FIX model with polycarbonate housing and IP65 rate, 2 LiderLED® tubes with external MeanWell driver. This solution provides a 60% energy saving, and improves the lighting conditions at manoeuvring area.