We specialize in the study, development and implementation of global solutions of energy efficiency in lighting for offices and tertiary-use buildings.
We have a wide range of product equipped with the latest technology in LED diodes and electronic drivers.
We manage projects and facilities for companies, homeowners' associations, residences, commercial buildings, etc ...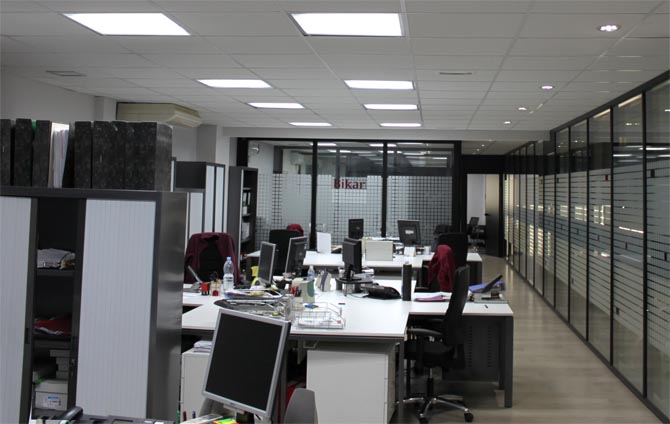 Our green solutions aim to create an optimal working enviroment, with intelligent applications based on presence sensor and self-regulation by daylight harvesting. Systems that make easy the rational use of facilities in order to increase the total energy saving.
---

Our solutions:
LiderLED® L2-G Series

MeanWell driver LPF Series

SMD 2835 Epistar LED chips

Available dimension options: 60*60cm, 30*120cm y 60*120cm

Available power options: 40W, 60W and 100W (60*120cm)

Improved luminous efficacy: >110 lm/W

Cold forging aluminum housing

1-10V dimmable version

LiderLED® L2-DL Series

Philips Xitanium driver

Philips Fortimo DLM LED module

Available power options: 14W and 26W

Dali dimmable version
LiderLED® L2-DLB Series

HEP Group driver

Seoul Semiconductor LED chips

Available power options: 9W, 18W and 28W

IP44 for toilets and locker rooms

1-10V dimmable version

EKOS Sensors

Auto adjusting of light power according to daylight amount

Management of turn on/off operation by presence detection